Archive of the Category 'Events'
"Thanks again for another successful resurfaced hip. I now have both hips resurfaced, and I feel almost at full strength after 8 months. My wife took a video of me running to first base tonight. Don't pay attention to the terrible swing on that pitch, but instead on my legs moving pretty well to beat out the infield hit. I'd say not bad for a 49 year old with 2 metal hips! I also stole second base after that. I will definitely recommend you to any player who is told he needs hip surgery. Thank you for giving me my life back. I will be playing every year in the Roy Hobbs World Series down in Fort Myers, Florida at the end of October for 2 weeks thanks to you."
– Mike D., Hip Replacement Patient

One of Dr. Della Valle's recent presentations, entitled "Hypoalbuminemia Predicts Joint Infection, Pneumonia, and Readmission After Total Joint Arthroplasty", has been chosen by the American Academy of Orthopaedic Surgeons (AAOS) for inclusion in their Best of AAOS presentation. The Best of AAOS presentation will take place Friday, March 4, at the AAOS Annual Meeting in Orlando, FL.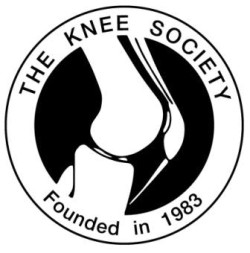 Dr. Della Valle has been selected as the recipient of The Mark Coventry, MD Award for his paper titled, "Oral Antibiotics Reduce Reinfection Following 2-Stage Exchange: A Multi-Center, Randomized Controlled Trial.".
He will present the paper at The Knee Society/AAHKS Specialty Day program (AAOS 2016 Annual Meeting) on Saturday, March 5, 2016, in, Orlando, FL.
A recent study that Dr. Della Valle co-authored has won The James A. Rand Young Investigator's Award. The study is entitled "A Randomized Controlled Trial Of Oral And IV Tranexamic Acid: The Same Efficacy At Lower Cost?". The award will be presented on November 7th at the annual AAHKS meeting in Dallas, TX.
About the award
The American Association of Hip and Knee Surgeons (AAHKS) established the Young Investigator's Award in honor of James A. Rand, MD, founding member and past president of AAHKS. The purpose of the Award is to recognize a young investigator who demonstrates clinical excellence in knee-related research.
To be eligible, the young researcher must be the principal investigator of the research submitted, and less than five years in active practice from the date of application.
The most outstanding paper that embodies Dr. Rand's commitment to the highest standards of orthopaedic knowledge will be selected for presentation at the Annual Meeting.
About the study
Blood loss is a concern after hip and knee arthroplasty. Tranexamic acid, is a medication that is used commonly to reduce blood loss and the risk of transfusion after surgery. Tranexamic acid is usually given intravenously at the time of surgery.
In this study, we compared the use of an oral formulation of tranexamic acid to the IV form. The oral form is much less expensive and we found in this study that the oral form was just as effective. This study could lead to substantial cost savings for our health care system, in the range of $50 million dollars per year given that nearly 1,000,000 hip and knee replacements are performed in the United States every year.
Click here to learn more about the award »
Click here to read the study's abstract »

Dr. Della Valle was recently elected to the board of directors for three organizations.
He was elected to the board of directors of the Mid-America Orthopaedic Association as Member at Large.
He was also recently elected to the board of directors of the Knee Society as Member at Large.
Dr. Della Valle was also elected to the board of directors of the Hip Society as Secretary.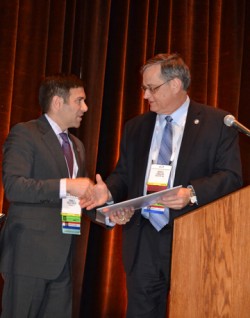 Dr. Della Valle received two awards at this year's AAOS Annual Meeting.
Dr. Della Valle and Mr. Paul Yi were given The Hip Society Stinchfield Award and Dr. Della Valle and Mr. Matt Tetreault were given The Knee Society Ranawat Award for outstanding contributions to orthopedic research.
For the Stinchfield Award, Dr. Della Valle and Yi researched the diagnosis of infection following hip replacement surgery. They submitted a paper entitled, "Diagnosis of Periprosthetic Joint Infection in the Early Post-Operative Period Following Total Hip Arthroplasty".
For the Ranawat Award, Della Valle's submission was entitled, "Should Prophylactic Antibiotics Be Withheld Prior to Revision Hip and Knee Arthroplasty to Obtain Appropriate Cultures?" Dr. Della Valle and Mr.Tetreault, along with colleagues at Thomas Jefferson University in Philadelphia and Sinai Hospital in Baltimore, researched the effects of antibiotics when given to a patient before his or her hip or knee revision procedure.
In addition to these awards, Dr. Della Valle and his associates presented 11 additional scientific presentations and one scientific exhibit. The exhibit was acknowledged as one of the twenty best of the 2013 AAOS Annual Meeting.
Dr. Della Valle was recently awarded the Hip Society's Frank Stinchfield Award. The prestigious award is given annually to recognize research that demonstrates an outstanding contribution concerning hip problems. Dr. Della Valle received the award for his study to determine whether the femoral head size affects dislocation rates among patients undergoing revision hip arthroplasty.
Dr. Della Valle and his colleagues followed 184 patients from seven different centers for two to five years after surgery. Half of the patient group had 32mm femoral head implants, while the other half had 36/40mm femoral head implants. Those patients within the larger femoral head group demonstrated a dislocation rate of 1.1% versus an 8.7% dislocation rate among those with the smaller femoral head size.
The study found that a large femoral head can significantly reduce dislocation rates in patients undergoing revision total hip, without increasing linear polyethylene wear or decreasing quality-of-life outcomes. As a result the authors now routinely use large femoral heads with a highly cross-linked polyethylene acetabular liner in all revision hip arthroplasty procedures.