Patient Stories
Our patients' satisfaction is always appreciated. If you have a testimonial you would like to share, please feel free to email us.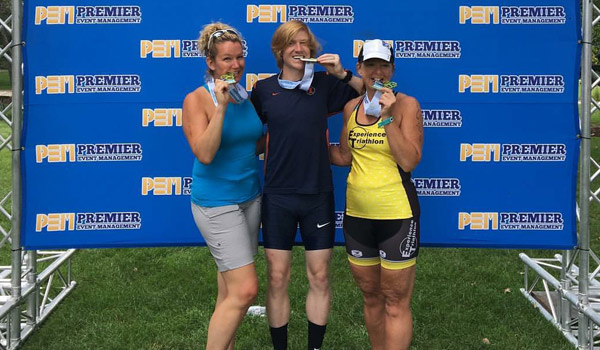 Laura received a total knee replacement.
"I just raced in Naperville today and averaged over 21 and won my division. No knee pain at all feeling awesome."
Patient Philip completing the "Tough Mudder" race. Philip had a right hip resurfacing 8/10/11.
Lynette C. is a young woman who required a hip replacement.
"Since I'm avoiding impact activities, I'm trying new workouts including climbing, hiking, and stand-up paddle boarding! I love the new challenges and my hip doesn't slow me down at all."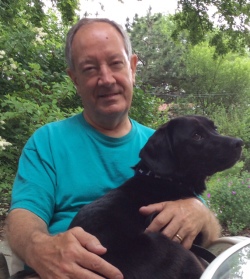 "40 years of long distance running took a toll on my knees. Even ordinary walking became a persistently painful experience, despite the normal progression of pain medication, cortisone shots and artificial cartilage injections. With no pain relief in sight, I had reached my limit.
With both legs bowed from loss of cartilage, it was obvious that knee replacement was my next option. Fortunately, my daughter works at Rush and asked her physical therapist for a doctor recommendation. A visit to Dr. Della Valle followed, and surgery was scheduled for my right knee, and six months later for my left knee.
It is like having a new lease on life. At 66 years old, my knees should be good for the rest of my life. I can now walk the dogs at the animal shelter pain-free, play golf and bowl again, activities that I hadn't been able to do for years.
I knew that Dr. Della Valle and his staff would be both professional and among the best at their art, but was also pleasantly surprised at the personal follow-up attention from Dr. Della Valle himself, as well as his staff.
Based on my experience, I highly recommend Dr. Della Valle and his staff. The result speaks for itself."
Paul H., Knee Replacement Patient
"Thanks again for another successful resurfaced hip. I now have both hips resurfaced, and I feel almost at full strength after 8 months. My wife took a video of me running to first base tonight. Don't pay attention to the terrible swing on that pitch, but instead on my legs moving pretty well to beat out the infield hit. I'd say not bad for a 49 year old with 2 metal hips! I also stole second base after that. I will definitely recommend you to any player who is told he needs hip surgery. Thank you for giving me my life back. I will be playing every year in the Roy Hobbs World Series down in Fort Myers, Florida at the end of October for 2 weeks thanks to you."
Mike D., Hip Resurfacing Patient
"I am a healthy 43 year old male and I have recently undergone hip resurfacing surgery with Dr. Craig Della Valle at Rush University Hospital in Chicago. As I type this I am only 6 weeks post op. I want to share my experience, which is still unfolding. Prior to surgery I experienced pain from activity and the pain had gone from a nuisance to a constant ache over the course of a year or so. After dealing with the pain for some time I was diagnosed with advanced osteoarthritis in the right hip."
I researched my options and saw several doctors. I ended up at Rush to see Dr. Shane Nho. Dr. Nho reviewed my x-rays and echoed the conclusion of the local orthopedic, my condition was too advanced to repair via arthroscopy. We had a quick discussion about what I wanted from treatment. I expressed my primary desire "to keep up with my kids". I don't want to run a marathon, just coach and play in the backyard with the kids without pain. Dr. Nho referred me to Dr. Della Valle, and he was able to see me the same day.
I met with Dr. Della Valle and explained what I was looking for – to keep up with the kids. He explained that I was a perfect candidate for hip resurfacing. He certainly did not "sell" the procedure. It was more like, here is what we can do and yes, you will keep up with your kids. He told me that he could fix my hip and I would be able to keep up with my kids and added with a smile, "If you are fast enough". I was sold.
I set a date for surgery before leaving the office. For the first time in months, I had an option that would allow me to live an active lifestyle. Before the date of the surgery I did my homework on both hip resurfacing and Dr. Della Valle. I learned that hip resurfacing is a technically difficult surgery and you should choose an experienced doctor for the procedure. Dr. Della Valle fit the profile.
Now that the procedure is behind me I can say it was the right decision. At six weeks, I am pain free, back at work and already walking in excess of a mile without pain or a limp. I may want to run marathon after all as Dr. Della Vella told me at the 6 week checkup that at a year post-op I would be able to run all I wanted. Even if a marathon is not in my future, I will be running a 5k with my daughter next year. She had asked me to be her running partner this year and I was unable to accommodate her request. By this time next year I will be fully capable.
I have Dr. Della Vella and everyone on his team to thank for a second lease on life. My kids will grow up with an active Dad thanks to the work he performed. When you are asking someone to basically place a precision bearing system in your hip there is no margin for error, you want the best and Dr. Della Vella is exactly that.
Dr. Della Vella's staff matches his top notch performance. Phone calls are returned promptly and office visits are on time. The team of nurses that works with Dr. Della Vella is tireless, I am positive that Courtney must have a clone as she is always available. I do not know how one person can be everywhere but she does it. The surgical team at Rush was top notch. All in all, there are not enough positive adjectives to describe the Dr. Della Vella team. I would not go anywhere else."
Jeremy, Hip Resurfacing Patient
"Dr. Della Valle was confident in his ability to get me back to work and back to ballet. He guided me through the whole process by giving me the right amount of information in a kind, gentle manner. I'm so glad I didn't wait to get the procedure done until my pain was too debilitating. I am able to enjoy my life so much more."
– Kathryn C., Partial Knee Replacement Patient
"I had to take a cab home in the middle of a walking tour because my left knee was in so much pain.
Dr. Della Valle is a fabulous surgeon who is so kind. That's a hard combination to find."
– Patty B., Knee Replacement Patient
"Dr. Della Valle resurfaced one hip in 2009 and replaced the other five months ago. Prior to each surgery, I was in marked pain and mobility was a big issue. Walking to a neighborhood restaurant was an unpleasant ordeal. The pain was limiting my life and the lives of those around me. Post surgery, I can do pretty much anything – not running after the second one but I was never much of a runner anyway. In fact, I am writing this report as I return from a trip to Hong Kong and Singapore, where I saw and did everything I wanted, walking everywhere. I can move and move very very well. Seeing the world is not a problem!
One reason for the great success of the procedures is that Dr. Della Valle is technically very good. That means good surgical technique, of course, and I checked around diligently to ensure I was picking a surgeon with good hands. However, it also means doing the right procedure given who and how you are. Dr. Della Valle is wonderful in this regard. He talked with me, not at me. It was a true consultation, which left me feeling fully confident in the chosen procedures. That helps because as you go into the surgery and the rehab, you may have misgivings and worries. Face it, the whole process is a little freaky – metal body parts, for goodness sake! Knowing I picked right, I moved through all the steps very effectively. I was restored to my happy mobile self very quickly.
Another reason for the good outcomes and for a good process ties to the systems around Dr. Della Valle and his team. His nurse Kim was in on the consultations and handled my many follow up questions pre- and post-surgery with good humor and deep expertise. (Oh, and let me stress the doc doesn't do the surgery and then ignore you. He checked on me in the hospital and called me at home.) The rest of the behind the scenes folks who make sure all the "paper work" side of things goes well didn't make a single mistake. It just flowed along the way you wish things would. The office staff is very nice and extremely competent.
One other thing, which might seem minor, really made the second surgery go well. Dr. Della Valle is forward looking about all aspects of your well-being and recovery, not just the surgery. He applied a new dressing for the second surgery, which promoted healing but which also allowed me to shower. For the prior surgery, as is convention, I wasn't allowed to shower for weeks. That gets old fast and I felt more I like a patient than a person. By contrast, for the second one, I felt like myself. That was great in its own right and it gave me greater energy and enthusiasm for rehab.
I couldn't be happier with the work of Dr. Della Valle and his team. If I had a third hip that needed attention, they would be my go-to team!"
– Anne M., Hip Resurfacing Patient
"Ten years ago I made one of the most important decisions toward extending my retirement years. I had been working out, losing weight, etc. but still needed to take several serious pain killers to allow me to get through my days. I finally allowed Dr. DellaValle to turn my knee into a "bionic one. That one decision has changed my entire life."
– Mary R., Total Knee Replacement Patient
"My left knee was seriously injured in a motorcycle accident 35 years ago.Most of the patella was gone, and a couple of screws held the knee bones together. Eventually my knee got bad enough that I was unable to enjoy my summer hiking in Aspen, Co., even with help of a pair of walking sticks.That is when I decided to go for knee replacement surgery.
I consulted with the two most prominent, and busiest, providers of knee replacement surgery in my suburban Chicago area. However, both were clearly uncomfortable tackling my messy knee, and both suggested I should wait till 'the pain becomes unbearable'. On a recommendation from a professional friend I made an appointment with Dr. Della Valle at Rush Hospital in Chicago.
Dr. Della Valle and a resident looked at the X-rays they had just ordered for my knee. Both seemed supremely confident and said 'yes, we can do that'."
Hans J., Total Knee Replacement Patient
"While waiting for my first appointment with Dr. Della Valle a friend of a friend called to tell me how well she felt four months after having hip surgery with the Doctor. I was relieved to hear her thoughts because admittedly I am a very nervous patient. I had been experiencing various pains in my hip, however, for several years and knew I wanted to move forward with surgery.
After meeting with Dr. Della Valle I felt I would proceed because I liked his credentials and had a good firsthand reference. My experience from the initial waiting room visit to the last post operative visit, was nothing but positive. The doctor was concise and thorough, his staff was professional and very good humored, too. They put me at ease and were attentive while I waited in preoperative rooms. After surgery I used the recommended ice machine at home. That, plus the home health care therapists really assisted in my recovery. Just before my four -month check up, I felt my leg was truly strong. I was walking up stairs upright, without assistance and best of all, pain free. So happy I had the surgery and I encourage others not to hesitate if they are in pain."
Terry O., Hip Replacement Surgery Patient